Top Stories
Details

Written by

NJ NEWS Jersey Reporter
Changes Are Coming to AKBAR Indian Restaurant 
EDISON, N.J.--AKBAR has a very interesting and long history, opening its first restaurant on Park Avenue and East 57th Street in Manhattan, then moving forward onto Garden City, Long Island. The name AKBAR refers to the only emperor of India who took care of both Hindus and Muslims. AKBAR in Edison NJ opened its doors to rave reviews on January 1, 1993, which is significant in itself because New Jersey has numerous and wonderful Indian restaurants to choose from. Pradeep Malhotra revealed he had never even heard of Edison, NJ being that he essentially lived in Manhattan and was most familiar as well with Long Island.
Mr. Malhotra is grateful to his New Jersey friend, a hotel and restaurant owner himself, who encouraged Mr. Malhotra to dive into the deep end and open up AKBAR. In a few short months, AKBAR already was booked a year in advance for banquets.
AKBAR is family, the family being second generation restaurateur Pradeep Malhotra, his wife Meenokshi, and their son, Varun. In fact, Mr Malhotra's father and extended family own restaurants in Bombay and Pune, India. Thus, the restaurant and hospitality business seems to be a generational thing. Even the chefs and kitchen staff have been with AKBAR for at least fifteen to twenty years, which speaks to the consistency of impeccable food, service and hospitality.
 How is AKBAR changing????
AKBAR was actually the first Indian banquet hall in New Jersey, although there are many more now. It has been renovated a few times over the years in order to accommodate the growing Indian community in the area. For years AKBAR has catered weddings including the traditional Indian ceremony known as the Varmala, sweet sixteen parties, bridal and baby showers often times for the same families who keep coming back. AKBAR has catered events and weddings for fifty guests up to four hundred guests, often taking place in their stunning outdoor space as well as their main banquet areas.
Today the restaurant and banquet halls are being extensively renovated! AKBAR is expanding and upgrading, modernizing yet maintaining the traditional integrity of an Indian venue and planning to soon cater events for up to six hundred guests! While the menu at AKBAR has evolved over time and of course serves traditional Indian foods including Vegetarian dishes, a new Vegan menu will soon be available for patrons. AKBAR in addition welcomes bar patrons to enjoy sporting events on their big screen TV.
What do the Malhotra family want you to know about what's happening at AKBAR……
For one thing, the Malhotra family brings forth to their business a climate of positive and joyful energy. They are committed to providing a venue not just for the Indian community but welcome all the diverse communities of our area. Varun Mahotra reminded us that AKBAR welcomes all events which are significant and those which include holidays, business and corporate seminars and gatherings, and community events. In fact, AKBAR is engaging with The Sportsplex at Metuchen for events such as soccer matches, camps, adult and youth leagues, youth events and general programs.
AKBAR is a long-time member of the Edison Chamber of Commerce and has received many positive reviews on Trip Adviser, Yelp, and Open Table as well as a rave review in the NY Times.
PLEASE visit one of the most highly rated Indian restaurants in all of the Metropolitan area where you can enjoy dining in the elegant ambiance of AKBAR, impeccable food and service, choices from their regular menu as well as their buffet offerings! AKBAR offers buffets Mondays thru Fridays for lunch at $8.95, Saturdays and Sundays lunch 12.95$ and Sunday dinner buffet for $15.95.
AKBAR RESTAURANT
21 CORTLAND STREET
EDISON, NJ 08837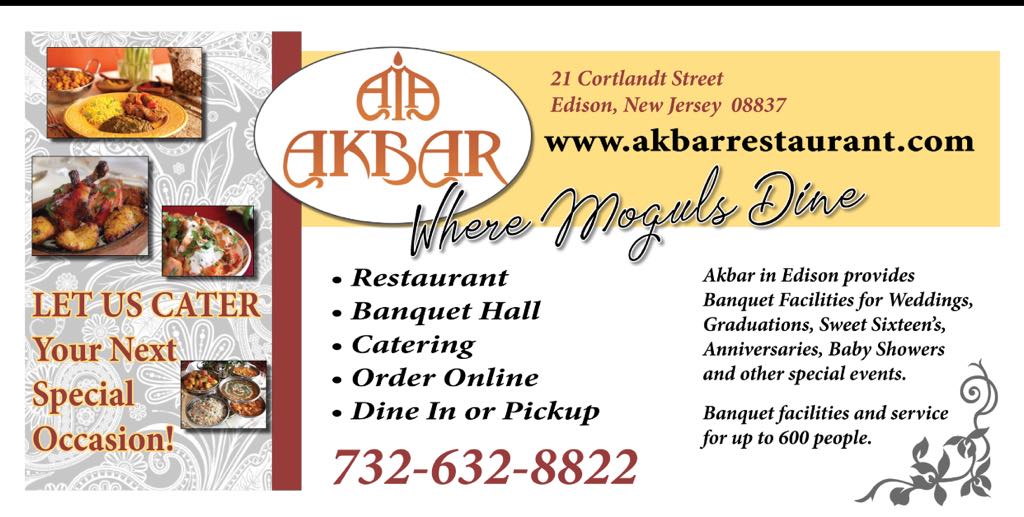 See our BANNER at the Metuchen Sports Plex
Reported Story by News Reporter
Brian Milton
Written By Leah Brown Klein
Details

Written by

NJ NEWS Jersey Reporter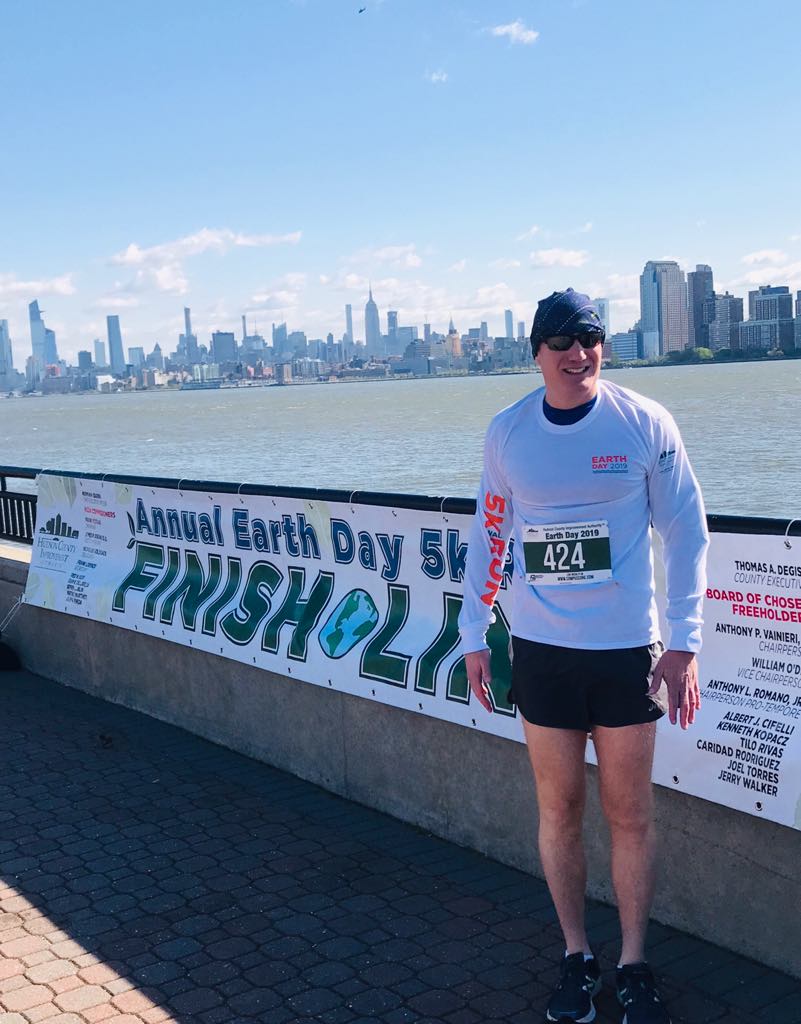 Amnon Gutman is seen Saturday, April 27th 2019 
Jersey City N.J. -- "It's a great afternoon, said Norman M. Guerra, head of the Hudson County Improvement Authority (HCIA), saying "on a nice day," a couple thousand people usually visit the Earth Day Festival, now in its 29th annual year.
The event kicks off with the Annual Earth Day 5K Walk/Run, which is bigger than ever now and has become one of the fastest growing spring 5K's in the region. The course, flat and fast, is USATF-NJ Certified. SEE RESULTS HERE!!!
Citing slews of exhibitors under the tent on Saturday, Guerer ticked off environmental groups, city/county agencies, county health and human services, the local fire department, and sheriff's office, among other entities, in attendance.
For the second year in a row, Sebastian Baret, 41, a resident of Jersey City won the race in 15 and-a-half minutes.
For the woman, it was Cibel Canlar, 34, all the way to the tape -- finishing in 18:54. Amnon Gutman, 51, a resident of Hoboken, NJ, finished in the top 100, in 64th place overall, his time was, 22.44.
"They did a really good job," said Gutman of his first time running the Earth Day 5K, adding that the event's organization was really well done.
"I'm a member of the New York Road Runners Club, so I'm used to a well-organized race where everything is organized – it was exceptionally done well."
A marathoner, Gutman said he runs about a dozen races a year and began running in his 30's. He ran his first marathon five years later, at 35.
We created a series of running events nearly two decades ago, said Larry Gershberg, of New Balance North Jersey, which sponsors so-called USATF-NJ "Grand Prix" races such as HCIA's Earth Day 5K in Jersey City.  
Gershberg explained that most runs in the continuing series are 5K, 10K, and 15K, and throughout the year, runners earn points (age-group specific) for races they score (officially finish) in.
His New Balance dealership creates prizes at many of the individual events using Gift Certificates to his stores in Hasbrouck Heights or West Windsor, NJ.
"The logo on the application means that runners will earn New Balance Grand Prix points toward their yearly totals," continued Gershberg.
"There are cash prizes at the end of the year, and lots of pride involved as well, so runners are pretty serious about earning and accumulating points" as they did in Saturday's Earth Day 5K as usual.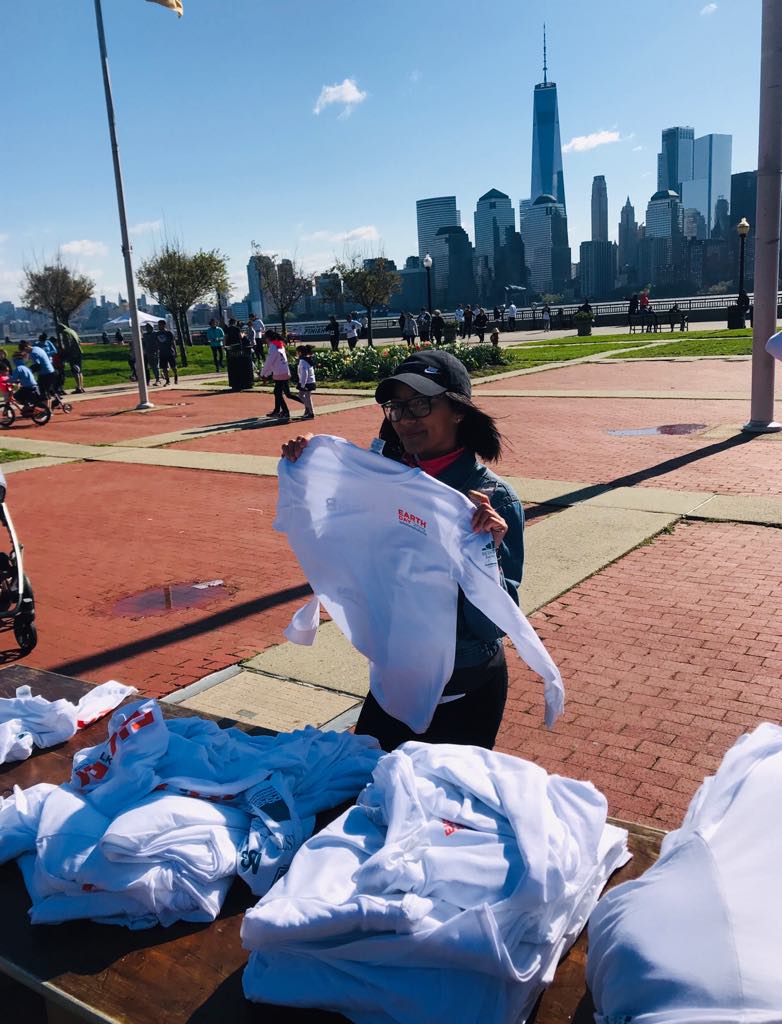 Governor Takes Part in HCIA's Earth Day 5K ( SEE FACEBOOK LIVE VIDEO)
Saturday was another busy day for Gov. Phil Murphy. He ran the Earth Day 5K in Liberty State Park along with his family first thing Saturday morning. 
When Governor Murphy was asked about his predicted time by a a www.NJnewsjersey.com reporter, Murphy stated "between 28 and 29 minutes" but in the end  Murphy, 61, ran the 5k in 25-minutes, finishing in the top 100, and third place in his age group. 
Written by Dave S.
News Reporter 
Details

Written by

NJ NEWS Jersey Reporter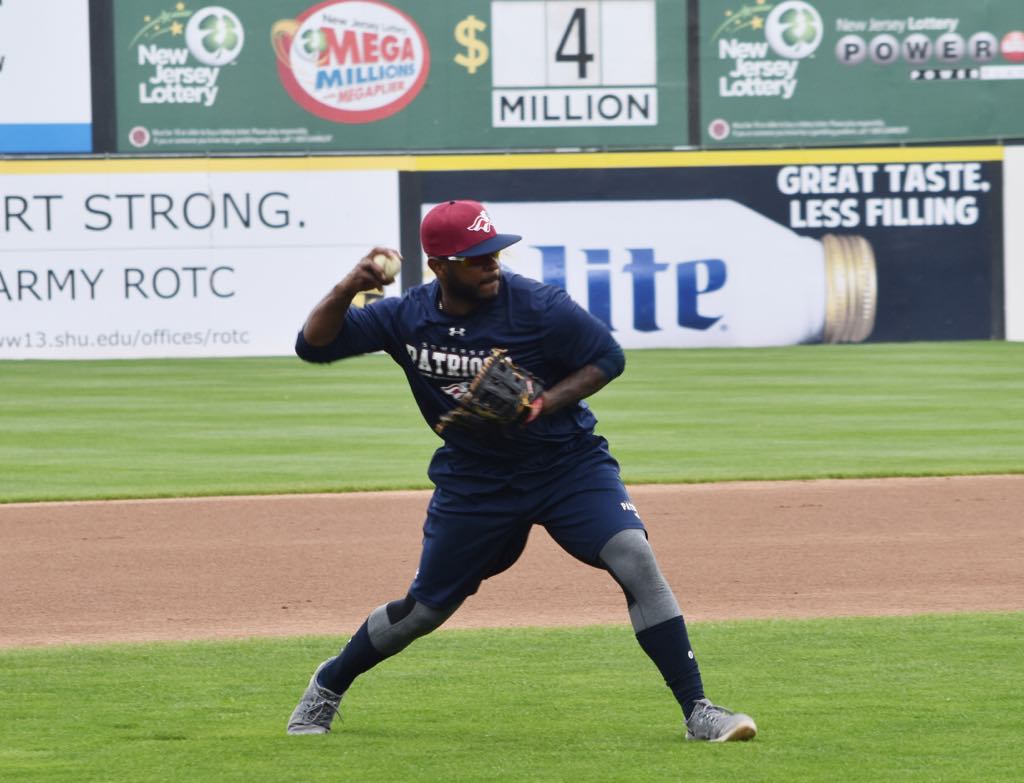 Patriots are excited to have Major League infielder Rey Navarro (seen above)  join the team!
BRIDGEWATER, N.J.-- The Somerset Patriots will officially open their 2019 season at home on Saturday, April 27th with a 3:00 PM and 7:05 pm game against the New Britain Bees.
A post game fireworks celebration is planned at TD Bank Ballpark, helping to provide a perfect setting for the opening game.
The Bees will then stay in town for two more games on Saturday evening at 7:05 pm and Sunday afternoon at 1:05 pm.
Following that series, the Patriots will then take on the High Point Rockers in a set of three evening games, starting at 6:35 p.m, on April 29th, 30th, and May 1st, before hitting the road for the team's first trip to the Bees followed by the York Revolution (six games).
The Patriots will return home on May 9th, to take on the Lancaster Barnstormers (see the entire 2019 season schedule here).
One player the Patriots are excited to have join the team is Major League infielder Rey Navarro. 
Navarro enters his first season with the Somerset Patriots and second season in the Atlantic League
He briefly played for the Sugar Land Skeeters in 2018 and hit .545 with two home runs before having his contract purchased by the New York Yankees.
Navarro has Major League service with the Baltimore Orioles, where he appeared in ten games during the 2015 season.
For his MLB career, Navarro has a .276 batting average with five runs scored, eight hits, two doubles, a home run and three RBI.
The Caguas, Puerto Rico native's baseball career began back in 2007 as a third-round pick of the Arizona Diamondbacks. He would complete three years of service with the organization before getting traded to the Kansas City Royals in 2010.
He spent the 2018 season at the Double-A level for the Seattle Mariners and Yankees organizations. In 2017, Navarro had a strong year at Triple-A Salt Lake, posting a .278 average with 137 hits, seven home runs and 82 RBI. 
Navarro also has minor league service with the Cincinnati Reds and Los Angeles Angels. Over 1,224 minor league games, Navarro owns a .263 average with 72 home runs, 516 RBI and 88 stolen bases.
 Did you know your Somerset Patriots:
Were established in 1998 as a founding member of the Atlantic League of Professional Baseball.
Drew more than 7,000,000 fans since opening TD Bank Ballpark in June of 1999. 
Average more than 360,000 fans per season and over 5,200 fans per game in attendance.
Are 6-Time Atlantic League Champions in 2001, 2003, 2005, 2008, 2009, and 2015.
Have a total of more than 1,500 Regular Season Wins and 14 Playoff appearances.
Had New York Yankees great Sparky Lyle as their manager from 1998-2012. (Lyle still serves as the team's Manager Emeritus.)
Are currently managed by the 2015 Atlantic League Manager of the Year, Brett Jodie.
Have raised millions of dollars for charities throughout the area.
Have 20 former players that have made it to Major League Baseball, in all.
Hold a leadership role in the new Atlantic League Major League Baseball Partnership.
About the Atlantic League of Professional Baseball (ALPB):  With eight teams in the Mid-Atlantic and Texas, the ALPB is a leader in baseball innovation and a player gateway to Major League Baseball. Through its exclusive partnership with MLB, the Atlantic League tests Major League Baseball rules and equipment initiatives. The Atlantic League has sent over 900 players to MLB organizations while drawing more than 40 million fans to its affordable, family-friendly ballparks throughout its 22-year history.   
Please visit www.atlanticleague.com 
Details

Written by

NJ NEWS Jersey Reporter
 EARTH DAY 5K EVENT APRIL 27th, 2019
"Annual run and walk celebrates both Earth Day and Liberty State Park" 
JERSEY CITY, N.J.--Lace up your shoes for The Hudson County Improvement Authority (HCIA) Annual Earth Day 5K Run/Walk on Saturday, April 27, at Liberty State Park.
Proceeds benefit the AREO Fund, a non-profit organization that helps facilitate various programs throughout Hudson County including Earth Day, Movies in the Park, Stride and Ride, and the Farmers Market.
Hudson County Improvement Authority (HCIA), is an agency governed by a Board of Commissioners that provides many services to the residents of Hudson County such as solid waste/recycling management, education, planning, energy, public financing and transportation management. 
In 2018 Sebastien Baret, 40, of Jersey City, was the overall winner of the 5K with a time of about 16 and a half minutes. Regan Colestock, a resident of Brooklyn, 31, was the first female to finish with a time of slightly more than 20 minutes.
There were 370 timed finishers in 2018, according to race results provided by compuscore, a race timing company.
The course traverses through scenic Liberty State Park along the Hudson River waterfront and is USATF-NJ certified. T-shirts will be provided to all pre-registrants and post registrants while supplies last. Post race refreshments will be served at the Earth Day Fair, featuring the Earth Day Kid's Kingdom, following the 5K, 11 am - 4 pm.
All activities, including parking, are located in Liberty State Park. The race is held at Audrey Zapp Drive in Jersey City and the start time for both the walk and run is set for 10 a.m. (The Registration Includes Parking) 7:30 – 9:30 a.m.
Remember you can sign up for the "Competitor Timed" 5K Run/Walk, or just the 5K, which is not timed, but will help raise funds for the park. (There is both a timed run and an non-timed walk or run.)
Trophies will be awarded to first, second, third place overall male and female. Medals to first, second, third place male and female in the following categories: 14 & younger, 15-19, 20-29, 30-39, 40-49, 50-59, 60-69, 70-79 & 80+.
Click here to print out paper registration form, or register online here: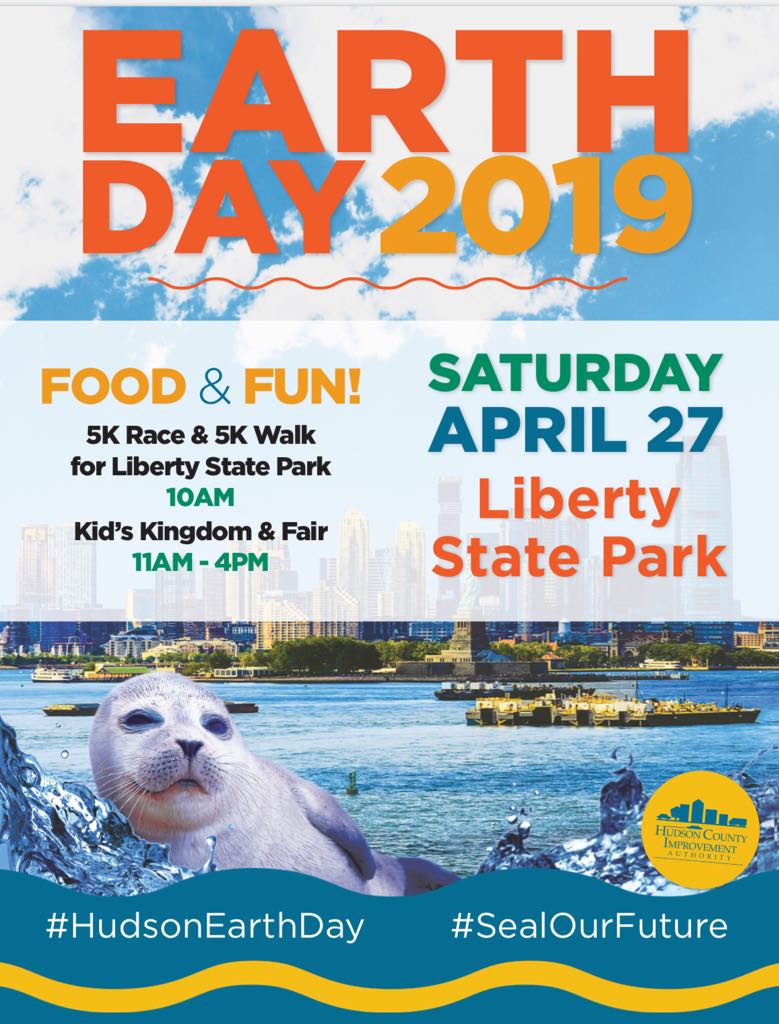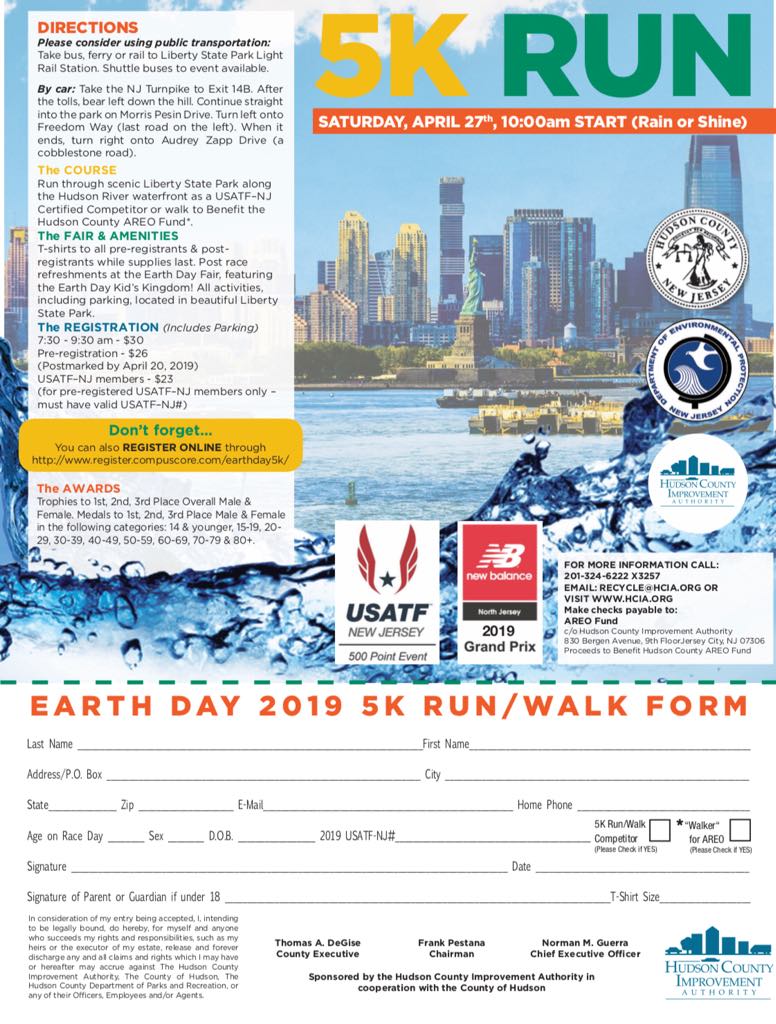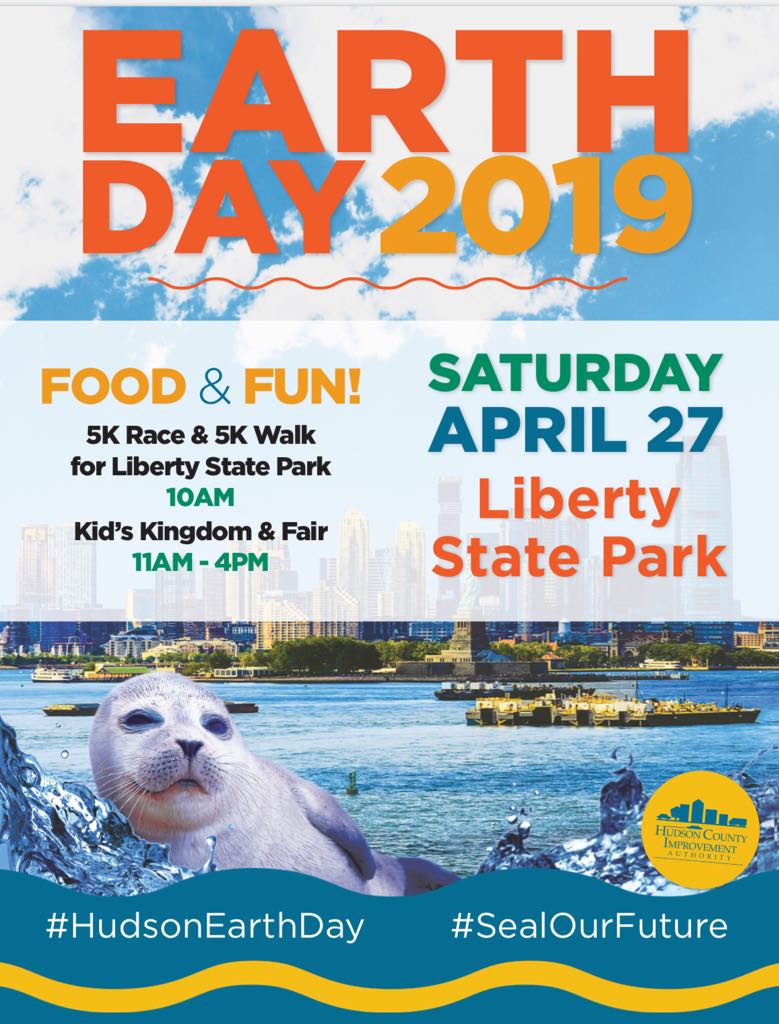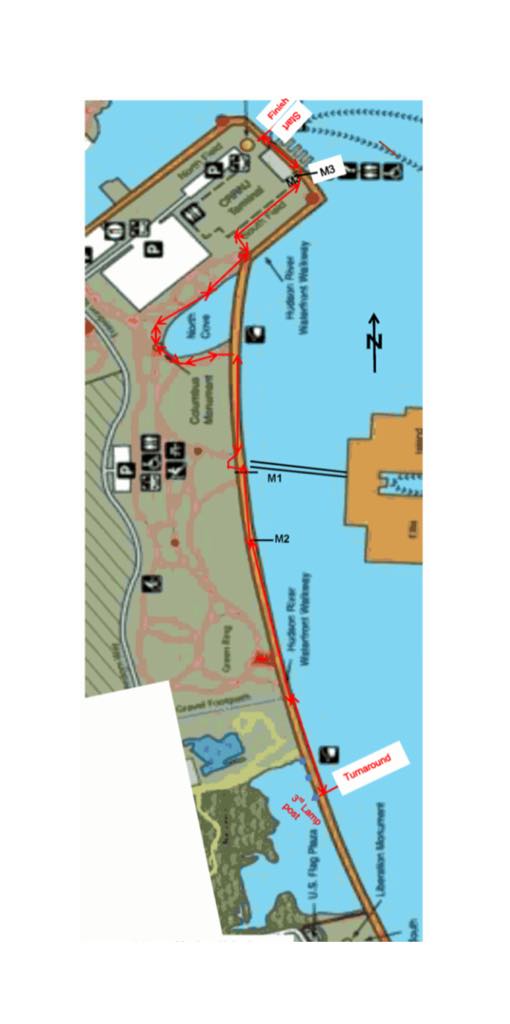 Link to .... Audrey Zapp Drive in Jersey City
For further information or special needs call: 201-324-6222   ext... 3257
#HudsonEarthDAy             #SealOurFuture 
By NJ NEWS TEAM 
News Reporter
David-Douglas Brown
Edited by Kate Hafner