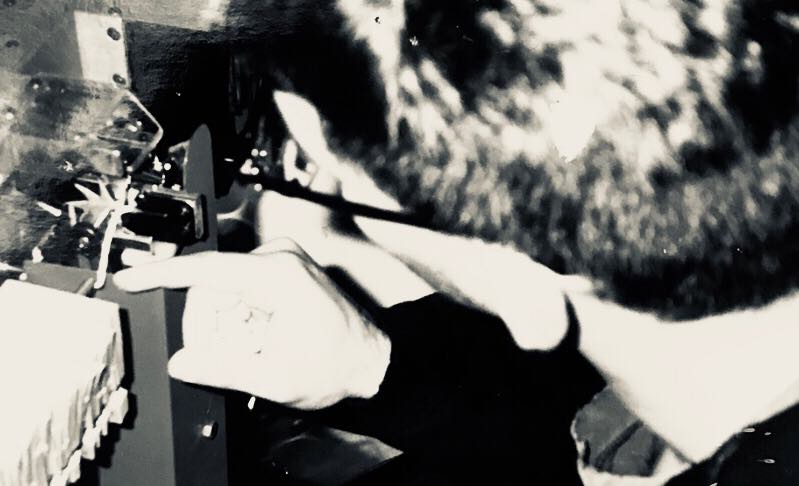 EAST BRUNSWICK NJ--QR Yellow Pages, when it goes live in early 2020, is sure to disrupt small business advertising in each town it hits.
Expected to benefit consumers and catch on quickly, the new patent pending invention/product represents "the wave of the future as the next generation of phone books" for all consumers, said inventor and entrepreneur, David-Douglas Brown, owner of Yellow Pages Online.  
And for the local business owner, "It's a no-brainer," Brown said.
"This is a fun, new, exciting and useful way for the next generation to have their own phone book."
And short of a consumer having to do the "scan part" there's always an exclusive local business & phone number which will either be that particular entities phone number or the one provided for tracking (by category to make user results instantaneous).
While it's being launched in East Brunswick, Brown hopes to see it expand quickly with as many as 20 individual towns by mid-2020, and then double that, by the year after. (Each town will have its own directory.) There will be some 60 plus categories from accountants, restaurants, landscapers, plumbers, restaurants, lawyers, painters, and many others – you name it.  
Brown estimates that all he needs just 1 out of 10 consumers to perform scans and this could be the biggest thing to happen to phone books since 1877, Alexander Graham Bell. Yet, the return on investment is quite high for local businesses – no matter what their average ticket size is.
Still the question Brown asks himself is: "Why wouldn't someone just go to Google?" and how can my team evolve the product to benefit the local community and co-exist with typical Google search?
What's happening with Google, he says, is that it's obviously going to be there, but inside your phone, QR works a little different than search, while offering consumers convenience, among other benefits. "Once you do the scan, text will come into your phone and stay there," Brown said. "We will provide all the data for a particular category, which will include all relevant listings.
As far as search, there are slews of businesses spending money on ads and key words "so the little guy is lower down." But the product affords "the little guy the opportunity to be right on top."
With QR Yellow Pages, the link to a local business will always come up on the top, he says, noting that it builds on the concept of hyper-local, as does a news site for a single town, for instance.
Remember, each pool of advertisers for a category "are relatively few," per town, he said, again citing his projections for how many towns will go live in coming days.   
"As long as [there is] support we can publish in that town."
Eight years ago David-Douglas Brown, was chatting with Apple co-founder Steve Wosniak at the third annual Rutgers University Entrepreneurship Day. Wozniak was in attendance that year advising local entrepreneurs.
One was David-Douglas Brown, who was at the event showing off QR Yellow Pages. Since then his product has been marinating, amid the growth in technology, of course.
Brown recalled Wosniak's words: "If people are contradicting you and saying 'No this is not how it's done' you have to move in the direction that you know feels good," he said. "If it's really different and disruptive there's no formula written for what's good and what's bad."
Fast forward eight years … and QR Yellow Pages is in the works, launching in East Brunswick soon.
Brown said he "came up with the idea" for QR Yellow Pages years ago and pitched it at the show at Rutgers where he met the Apple founder.
"However the technology wasn't there yet," he said of QR readers, overall. "It was too tedious and more work than it was worth."
Now QR readers are embedded in all newer phones, and if yours doesn't have one, apps are widely available and take only seconds to gear up. "Just go to photo and point at the QR Code". Very simple mentions Brown.
Fortunately, Brown has always had support from his mother, a retired teacher who was at the event that year to support her son.
"In the past we would bundle up towns to facilitate the delivery side, but we decided that every town will be exclusive," said Brown of the product.
So far, in East Brunswick, the response has been robust.
"Once we sell out we'll be pretty much ready to rock this thing out," added Brown. "We are the new technology system for advertising in town!
In East Brunswick, the first QR Yellow Pages directory will go out to all local businesses and households by February of next year.
Consumers will be able to scan Cyber-Coupons directly off of the directory's front cover as well – these Cyber-Coupons are of value to anyone needing goods or services locally, among those living in nearby towns, and others in need of a good deal.
My product "will be delivered to all the homes," said Brown. "It's a new invention – this is the future of yellow pages."
Moreover, he says the company will also be a big player in the coupon arena.
The nice thing about scanning the coupons is that, after a scan, the embedded offers will be instantly usable, said the inventor.
And every month there will be valuable new offers available via a simple re-scan. 
Traditional phone books, which are about obsolete and wasteful, have not been so hard to replace, given technology and a little bit of ingenuity, added Brown.
If your a business owner and want to make history with other local advertisers give us a call 732-646-1305 (Limited Space Available)
We will send a Technology Expert /Sales Representative to sit down with you and explain all the advantages that go along with QR Yellow Pages!