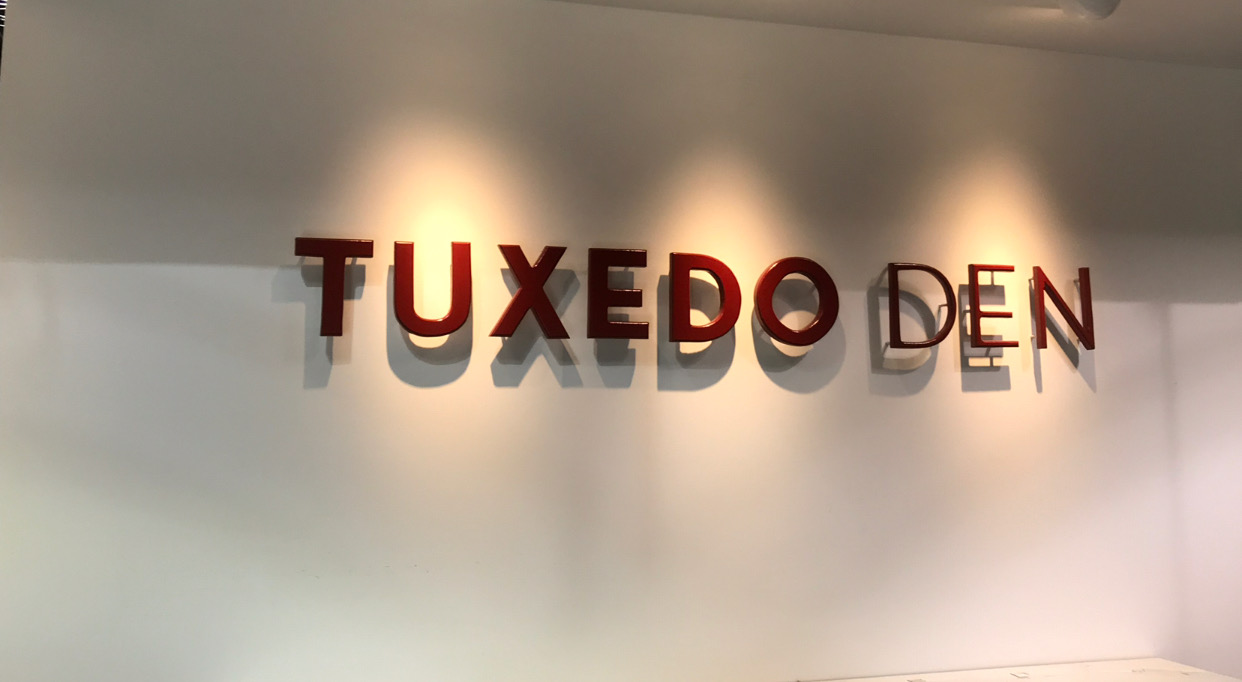 Wall, NJ – Last year we have published our first article about Jeffrey Petersen, an owner of a tuxedo store in Wall Township, New Jersey. This year we decided to follow up with his business and find out where he stands this year. Therefore, our reporter went back to Jeffrey's store and was pleasantly surprise to find out that the business is not only doing well, but actually  expended since last year. Jeffrey Petersen continues being creative and innovative, which brings more success to his business Tuxedo Den.  Since last year, Jeffrey has started expanding on lines in general, which include new styles of tuxedos, suits, shoes, and accessories. The show room looks different as space has had to be better utilized with an increased amount of product in the store.  Jeffrey has expanded on the selection of rental items and added large choice of retail product as well.  Jeffrey is also looking for a new racking system and hoping to build new dressing room areas in his store. 
Lately more customers becoming increasingly interested in purchasing a tuxedo and suit, and many compare prices between rental fees and a purchase.  For that reason Jeffrey worked out a package deal with one of his manufacturers that allow him to sell suits and tuxedos for a relatively inexpensive price.  Jeffrey offers a purchase price, which is not much higher than a rental fee, and has a compatible quality.  Jeffrey explained, "You can keep your suit for $300 as opposed to renting for $240 or $250. If you wear the suit just twice, you have already made the purchase worth it."  Nonetheless, even the rental is more profitable, Jeffrey always gives people the option to rent or buy, and clearly states to them that instead of just renting they can buy and keep the suit forever for just a little higher price.
During last year in order to advertise the retail business and also to test the quality of the new suits Tuxedo Den ran a test program in which all employees were required to wear suits every day during their shift.  This program was created to ensure that all suits and tuxedos being sold were of high quality and would not rip or ruin after only a few uses. Since this program started last year, all suits have lasted and none have even had to be replenished. This is a way to show that Tuxedo Den stands behind their products, which are long-lasting.  In addition to attesting to good quality this program brought lots of sales of suits and accessories that come with it. 
Since expanding rental and retail lines, Jeffrey added more mannequins on display.  Having a lot of mannequins in the show room allows customers to walk in and see all available tuxedos, suits, and accessories.  Jeffrey plans to continue stocking more lines of items at the Tuxedo Den. Everything on the left side of the showroom are rental items, and everything on the right side available for purchase.  There are no hidden costs at Tuxedo Den.  Prices of entire package or single items are clearly listed and customers know what they are paying for.
Tuxedo store largely relies on weddings, and even though weddings are wonderful celebration of people's love for one another, Jeffrey knows that wedding planning can be very stressful and overwhelming.  For that reason Jeffrey and his staff try to make the tuxedo rent or purchase process as easy as possible. Jeffrey inquires that every member of a wedding party come to the store and try on tuxedos or suits, and makes sure that he has each person's exact sizes and measurements.  Jeffrey then orders all of the suits at the exact same, so every suit is created with the exact same shade of color and dialect.  When the suits are ready, they are shipped to each customer's personal residence.  If the UPS driver is a little rough with the delivery, customers can bring the suit back in to the store and get it re-pressed.  Overall, this home delivery service saves customers a lot of time and frustration.  With excitement in his voice Jeffrey proclaimed, "If I can save people time, that's what I try to do because you're paying us for a service – you're paying us for an expensive service. I better do it right or as close to perfect as possible. I try to save everybody time, aggregation, and money."
Currently Tuxedo Den is running many promotions. For the prom season, which just ended few weeks ago, Jeffrey offered $50 discount on all tuxedo rentals.  If customers book their orders at least fifteen days or more ahead of their prom date, they got ten dollars off of their price as part of an "early bird" special.   Finally, if a customer referred a friend, that customer and their friend each get ten dollars off of their total purchase.  As part of a wedding special, all packages are offered with a $50 discount.  Discounts for prom rental proved to be a success and Jeffrey planning to implement same or better offers next year. 
In summing up the love of his business and his entire career, Jeffrey explained, "All I care about is that you get what you paid for. At the end of the day, if you wanted X, Y, and Z, you're going to get X, Y, and Z in whatever order you wanted it whether you wanted it Y, Z, and X." 
If you are in need of a suit or tuxedo, for rental or purchase, please visit Tuxedo Den at 1800 #211 on Route 34 in Wall. 732-414-1282
By Sharri Schneider News Reporter
Written by Travis Dunham