Changes Are Coming to AKBAR Indian Restaurant 
EDISON, N.J.--AKBAR has a very interesting and long history, opening its first restaurant on Park Avenue and East 57th Street in Manhattan, then moving forward onto Garden City, Long Island. The name AKBAR refers to the only emperor of India who took care of both Hindus and Muslims. AKBAR in Edison NJ opened its doors to rave reviews on January 1, 1993, which is significant in itself because New Jersey has numerous and wonderful Indian restaurants to choose from. Pradeep Malhotra revealed he had never even heard of Edison, NJ being that he essentially lived in Manhattan and was most familiar as well with Long Island.
Mr. Malhotra is grateful to his New Jersey friend, a hotel and restaurant owner himself, who encouraged Mr. Malhotra to dive into the deep end and open up AKBAR. In a few short months, AKBAR already was booked a year in advance for banquets.
AKBAR is family, the family being second generation restaurateur Pradeep Malhotra, his wife Meenokshi, and their son, Varun. In fact, Mr Malhotra's father and extended family own restaurants in Bombay and Pune, India. Thus, the restaurant and hospitality business seems to be a generational thing. Even the chefs and kitchen staff have been with AKBAR for at least fifteen to twenty years, which speaks to the consistency of impeccable food, service and hospitality.
 How is AKBAR changing????
AKBAR was actually the first Indian banquet hall in New Jersey, although there are many more now. It has been renovated a few times over the years in order to accommodate the growing Indian community in the area. For years AKBAR has catered weddings including the traditional Indian ceremony known as the Varmala, sweet sixteen parties, bridal and baby showers often times for the same families who keep coming back. AKBAR has catered events and weddings for fifty guests up to four hundred guests, often taking place in their stunning outdoor space as well as their main banquet areas.
Today the restaurant and banquet halls are being extensively renovated! AKBAR is expanding and upgrading, modernizing yet maintaining the traditional integrity of an Indian venue and planning to soon cater events for up to six hundred guests! While the menu at AKBAR has evolved over time and of course serves traditional Indian foods including Vegetarian dishes, a new Vegan menu will soon be available for patrons. AKBAR in addition welcomes bar patrons to enjoy sporting events on their big screen TV.
What do the Malhotra family want you to know about what's happening at AKBAR……
For one thing, the Malhotra family brings forth to their business a climate of positive and joyful energy. They are committed to providing a venue not just for the Indian community but welcome all the diverse communities of our area. Varun Mahotra reminded us that AKBAR welcomes all events which are significant and those which include holidays, business and corporate seminars and gatherings, and community events. In fact, AKBAR is engaging with The Sportsplex at Metuchen for events such as soccer matches, camps, adult and youth leagues, youth events and general programs.
AKBAR is a long-time member of the Edison Chamber of Commerce and has received many positive reviews on Trip Adviser, Yelp, and Open Table as well as a rave review in the NY Times.
PLEASE visit one of the most highly rated Indian restaurants in all of the Metropolitan area where you can enjoy dining in the elegant ambiance of AKBAR, impeccable food and service, choices from their regular menu as well as their buffet offerings! AKBAR offers buffets Mondays thru Fridays for lunch at $8.95, Saturdays and Sundays lunch 12.95$ and Sunday dinner buffet for $15.95.
AKBAR RESTAURANT
21 CORTLAND STREET
EDISON, NJ 08837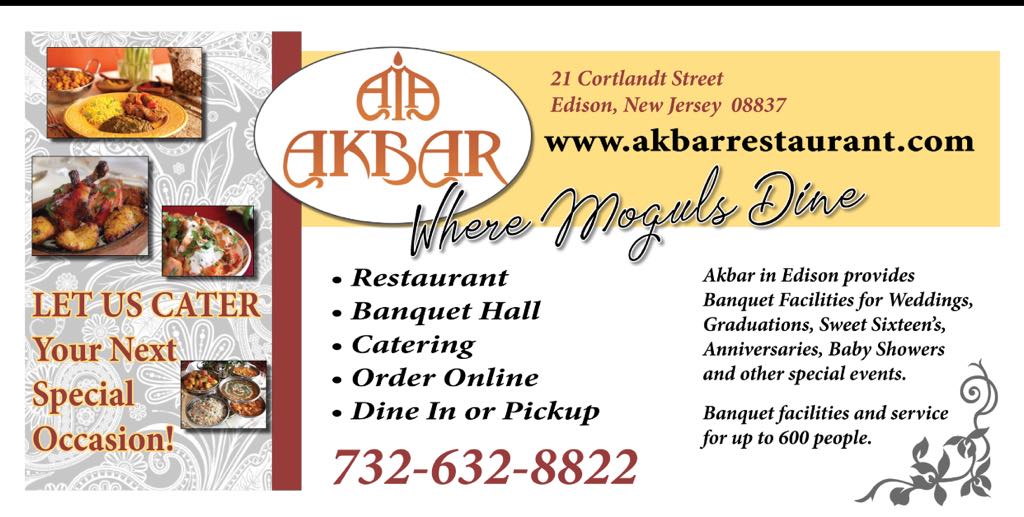 See our BANNER at the Metuchen Sports Plex
Reported Story by News Reporter
Brian Milton
Written By Leah Brown Klein