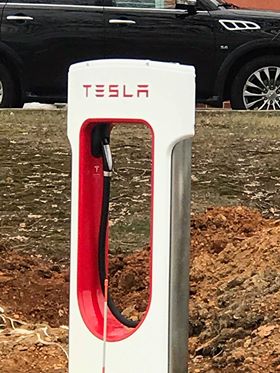 Electric vehicle charging stations at Brunswick Square Mall are 80 percent finished
 East Brunswick, N.J.-- A bank of five Tesla electric vehicle (EV) charging stations being installed along Route 18, directly across from Red Robin and Bar Louie, in the parking lot of Brunswick Square Mall is about 80 percent complete. 
The "target date" for the fast chargers to go live is sometime in early March, said Ron Lichtenberger, general manager of the mall, which is owned and managed by Washington Prime Group.
Lichtenberger said Washington Prime was "taking advantage of alternate uses" to benefit both the "large (mall) property" and local community.
"Tesla does very well with car sales for this demographic area, so there's been a need for it," Lichtenberger said, citing the broad "market" for EV's in New Jersey, and "other locations throughout the country" where Washington Prime also leases to Tesla.  
The EV's going in are the same as the four at Edison's Menlo Park Mall (owned by Simon Property Group), behind Romano's Macaroni Grill, he added.   
Completion of the outside work depends on winter weather conditions -- snow and freezing temperatures slow it down.
Asked how much revenue would be generated from the lease with Tesla, Lichtenberger declined to comment: "We don't (offer) specifics like that."

Reported Story 
Dave S.