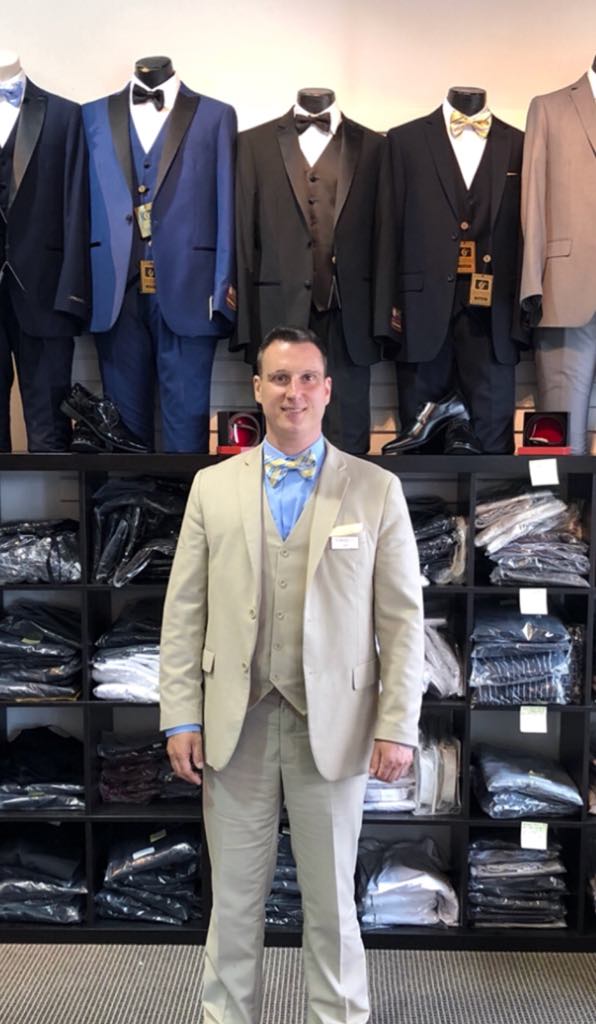 WALL, N.J. --In the early 1990's Jeffrey Petersen was a young man and undergraduate student studying aviation engineering, looking forward to becoming a commercial airline pilot.  Shortly after starting school Jeffrey began working part time for a local tuxedo shop and after receiving full-time position, he decided to take a break from college.  After few years working for someone else, Jeffrey completely fell in love with tuxedo business and learned all aspects of it, therefore, when opportunity presented itself, he purchased his own tuxedo shop named "Tuxedo Den", which he still operates for over 20 years!
            Jeffrey states, "I never looked back! I love the business and I love my job! I'm happy to go to work every single day and I get to deal with something that's fun!!"  Jeffrey loves being in the business that mostly revolves around celebratory events, big part of which are weddings and proms.  Therefore, meeting new people brings the most pleasure to Jeffrey and his staff, as Jeffrey continues, "It's my passion to do something on everyday basis that people are not able to do for themselves!"
            One of the most favorite things being in the tuxedo business for Jeffrey, which gives him both pleasure and satisfaction is the fact that he has the ability to do his very best in making sure that customers are going to look their very best, while feeling confident, comfortable, satisfied, and handled with respect, care, and professionalism.  "I am blessed!" says Jeffrey, seeing people happy and pleased with his work, makes him fall in love with his career every single day, over and over again.  
            Through the years, after working long hours and dealing with large quantities of orders, Jeffrey occasionally considered closing the store and getting another job as the pressure of being self-proprietor could be overwhelming at times.  However, his close friends and family members reminded him of happy and grateful customers who have come into the shop and said, "We wish we had known about you three years ago when we were getting married, because we went somewhere else and basically were treated completely indifferently."
            Jeffrey knows firsthand how important it is to provide good service to his customers, and his aunt and uncle, who occasionally have helped in the shop, reminded Jeffrey about how much his clients appreciate him doing a great job for them as well.  Jeffrey takes the time to walk his customers step by step through the process and that is the reason why clients keep coming back as well as refer Tuxedo Den to everyone they know.  Jeffrey put a recent experience in perspective when he himself had to have an eye exam at an eyeglass chain.  The receptionist was not at all helpful to say the least.  Unlike those big chain corporations who only care about big profits and not each individual client, Jeffrey actually takes his time with each customer, because he truly believes in providing good service and cares about each person he serves.  It is what he does, Jeffrey is very personable, and client friendly, his goal is to create an easy, comfortable, and positive experience for all his customers without exceptions.   
            Prom season is the busiest time of the year and Jeffrey encourages wedding customers to come either before April or after mid-June.  Even for a fall season weddings, there is plenty of time to prepare orders.  However, during prom season, there is always some commotion of sorts in the shop and Jeffrey says that is the "fun factor"!!  "It's the adrenaline rush for one whom gets working in this business!"
            Since opening the store, Jeffrey had a big change at the Tuxedo Den, in the past; it used to be an in-house production, where Jeff and his staff could be working from 7:00am until 2:00 or 3:00 am of the following day.  After realizing that the business has evolved with more high-end designer labels and more customizations, Jeff has established a sub-contract relationship with a wholesale distributor in Pennsylvania, which has been successful for quite some time.  Jeffrey orders the tuxedos with whatever specialized alterations needed and then when all is ready from head to toe, the order directly sent to customers' residences.  This is such a unique service!  The client is then able to try everything on in the comfort of his own home, and if any changes are necessary, or any issues arise, then these issues will be immediately taken care of by Jeffrey in the shop!
            Most recently, Jeffrey decided to do a bridal show and was amazed at how well his business has been received.  People were extremely interested in his business, appreciating meeting a true specialist in the industry!  Jeffrey and Tuxedo Den are all about making his clients have the very best personal experience and his joy is the personal gratification, which he receives when he sees photographs of the events he helped to create.  "I enjoy what I do, a job well-done! I did something that makes my customer say WOW!"
Check out Tuxedo Den at www.tuxden.com
Tuxedo Den is conveniently located at 1800 Route 34, North Bldg. 2, Rear 211, Wall, NJ 07719
Call 732-414-1282

By Sharri Schneider
News Reporter
Written by Leah Brown-Klein
Edited by NJ New Jersey